#03 Roses, Lilies, and Eucalyptus
$85.00
Roses, lilies, and eucalyptus in a vase
Description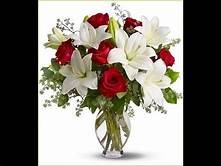 Roses, lilies, and eucalyptus in vase
*We strive to keep as many varieties and colors in stock for our customers' requests and needs. The images on our website are priced according to the number of flowers and greenery shown in each picture. Almost every arrangement can be downsized, colors can be changed, and flower selection can be substituted. Keep this in mind as you scroll though the website.
If you don't see exactly what you are needing, please call the shop at 870-856-3897 to see if we can accommodate your needs. Our store hours are 9-5 M-F and 9-12 on Saturday.
If you want us to deliver the items you purchase, make sure you add the proper delivery service selection to you cart. Click here to see delivery services.